PROFESSIONAL MAKEUP ARTIST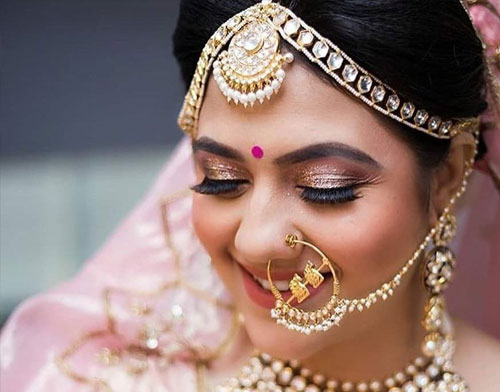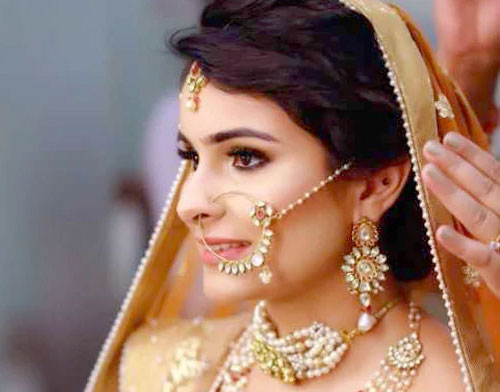 Elevating Elegance: Unveiling Professional Bridal and Editorial Makeup Services
Your special day deserves nothing less than perfection, and that's where our professional bridal and editorial makeup services step into the spotlight. We understand that every bride envisions herself as the epitome of beauty on her wedding day, and every editorial shoot aims to capture flawless elegance. At Mumbai Dreams Studio, we bring dreams to life through the artistry of makeup.
Crafting Timeless Bridal Beauty:
A bride's glow comes from within, but our skilled makeup artists know how to enhance it. Our bridal makeup services are meticulously tailored to suit your unique features, preferences, and wedding theme. From the soft, ethereal look of a beachside ceremony to the classic elegance of a formal ballroom affair, our artists work closely with you to understand your vision and bring it to fruition.
Consultation and Customization:
The journey to bridal radiance begins with a personalized consultation. We believe in collaboration, and our makeup artists take the time to understand your style, personality, and any specific makeup requirements. Whether you're aiming for a natural and dewy look or a more dramatic and bold appearance, we have the expertise to create magic.
Flawless Execution:
On the big day, our team ensures a seamless experience. Using top-tier, long-lasting products, we artfully apply makeup that highlights your best features and conceals any imperfections. The goal is to create a look that not only enhances your beauty but also withstands the emotions and tears of joy that come with the occasion.
Editorial Elegance:
In the world of editorials, every photo tells a story, and makeup plays a crucial role in weaving that narrative. Our editorial makeup services cater to photographers, models, fashion designers, and brands aiming to capture the essence of sophistication in their visuals.
As you step into new chapter of your life or embark on a creative journey through editorials, let Mumbai Dreams be your partner in beauty. Elevate elegance, celebrate individuality, and capture timeless moments with makeup artistry that speaks volumes. Contact us today to schedule your consultation and let us be a part of your extraordinary story
Our expertise in fashion and advertising photography has helped us bag various prestigious Indian.
Mumbai Dreams ? Discover Some Amazing Talent
Reach thousands of actors, models, photographers, and other creatives by placing a free
casting call, or hand-pick from our Talent Directory
I had a great experience working with the Mumbai Dreams team. They were all very professional, courteous and helpful throughout the day of my shoot. Definitely select the right agency to do my portfolio.
Great place for kids photo shoot. Awesome team. Highly recommended. Best in class. Pramod and team is highly professional and very supportive. Zafar is a true asset to that place. Very creative team overall.
Had a great experience with the 'Mumbai Dreams' team. It was fun shooting, they were very professional and made things comfortable and guided me pretty well throughout the shoot. Thanks again!!
I don't want to write too much words. I just wanted to send a endless greetings to Mumbai Dreams and say as many thanks as we can cause it was really the best experience and the best photo session.
Very understanding and helpful people. Also enjoyed the shoot a lot. Special thanks to pramod sir, who made my first shoot so comfortable. Thank you Mumbaidreams team!
It was so great! It was my first shoot n I got the proper guidance from Pramod Sir who was there all the time to tell me how to pose n everything. Completely worth it!

I did a shoot of my two sons with them. Pramod and his team were extremely professional and friendly. They had a special way of dealing with the kids. Both boys 9 and 5 year old were comfortable.
Mr.Pramod is a very helpful guy.We did our childs photoshoot at Mumbai Dreams last month.In one month, my 5yr child Kyra got an offer for garment photoshoot for a leading fashion mall at Mumbai(Juhu).
It was a great experience with Mr.Pramod@Mumbaidreams. They are very co-operative and we did my 5 yr old daughter Kyra Thakar's photoshoot with extreme ease. Thank you Mumbaidreams
Pramod
Casting & Managing Director
Ashish
HR & Office Manager
Deepak
Digital Marketing Executive
The Number One priority is our Customer service. if you have any
Question or queries. We are here to help you
For More Info Fill the Form