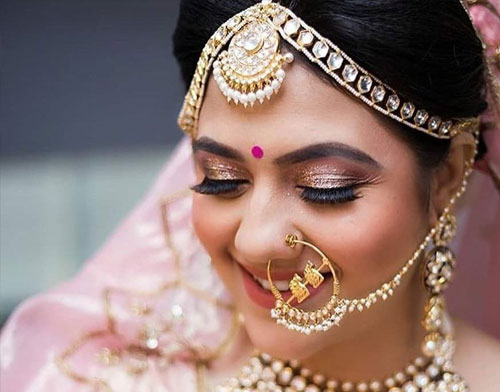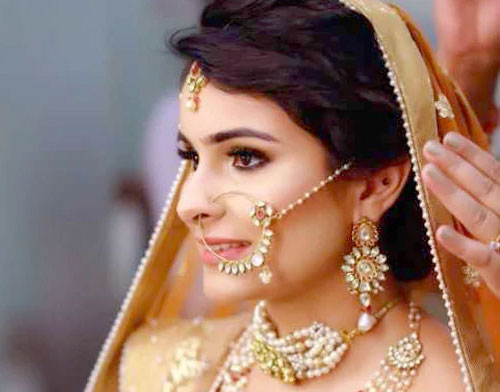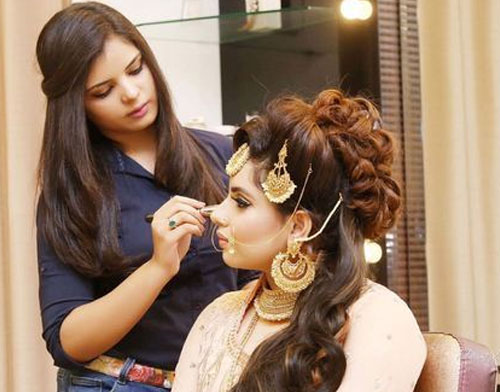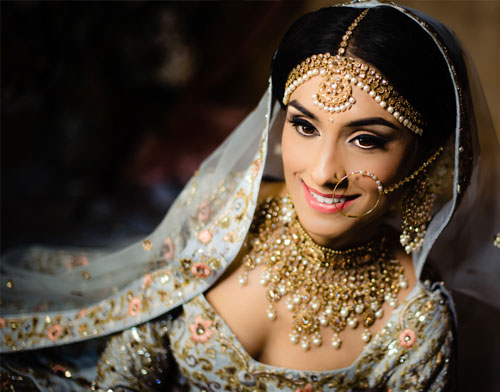 Bridal makeup is an essential part of the wedding planning process and designing the perfect look for your wedding day is our number one priority. Weddings in India, are an interesting simply because every religion has a different type of wedding ceremony. The brides and their traditional outfits too are different and that makes the Indian beauty scene just as diverse.
If you are an Indian bride, who plans to get ready traditionally according to your religion and culture, you may also want to consider wearing Indian bridal makeup accordingly.
Hindu bride:
In Hindu religion there are many different diverse traditions and cultures. Every region like North, South, East, West has different ways to dress up as a bride according to their own tradition.
Punjabi Brides:
Punjabi brides wear suit or a lehenga in vibrant colours and their tradition is full of jewellery like 'Kaleere', 'chooda', the 'nath' and the 'maang tikka' are a Punjabi bride's staples.
Makeup is kept simple and the hair is often tied back as the bride is required to cover her head with a veil through the wedding ceremony.
Tamilian Bride
Dressed in kanjeevaram silk sarees. Hair is braided or styled in a bun. Special hair accessories are used on the braid or the bun. Chokers, mango 'maalais', a thick golden waist cincher and a nose ring are all a Tamil brides staple ornaments. Makeup is kept simple with an accent on the eyes.
Maharashtrian Bride
The Marathi bride is a beautiful sight to behold. Dressed in a 'nauvari' saree, the bride has the typical half-moon bindi and the 'karwar nath' which is a nose ring designed out of pearls. She also wears an 'ambada' which is a bun ornament specific to the Marathi bride. Makeup is kept simple and elegant with the hairstyle in a bun.
Bengali Bride
Traditionally, Bengali brides wear red or maroon Benarasi silk saris with heavy zari work. They drape their Benarasi saree in a style that is typical to the state. They apply 'alta' on their feet and palms; this plays a major role in the makeup of the bride. The forehead of the bride is painted with sandalwood in red and white colours and a big red bindi is placed at the centre of the forehead. The lips are kept red to match the bindi and hair is kept tied back in a bun
Similarly, various other traditional brides like Rajasthani, Gujarati, Hyderabadi etc are dress in their traditional style.
Apart from Hindu Region. Various different regional are there in India. Like..
Christian bride:
Like if you are a Christian bride, they usually get dressed in white with a veil to cover her head. Nude or minimal makeup will ensure that her dress takes center stage.
Muslim bride:
Very often, you will find the Muslim bride with heavily kohled eyes and light lips. The hair is kept tied back as the bride covers her head with a veil. The main attraction is the ornaments they typical wear like 'Jhumar' or 'paasa' or the 'paakeeza' the accessory worn on the side of the head, by itself or alongside the 'maang tikka'.
Every bride wants to look her best on the most important day of her life. Every bride has a look in her mind to adorn for the wedding day. We provide best bridal makeup service. Our make-up artist are highly professional.
QUICK TIPS FOR THE BRIDE:
Listen to your heart and opt for best bridal makeup that makes you feel comfortable. Don't let people impose their ideas on you and also you don't have to worry about the latest trends. If a style makes you feel comfortable then that's your style. Keep all the essentials like concealer, blush and lipstick in a pack with you for the touch up. Use a spray at the end of the makeup to keep it set. And most importantly don't forget to relax. If you're happy it will automatically show on your face and make you the prettiest bride ever.
Our expertise in fashion and advertising photography has helped us bag various prestigious Indian.
Mumbai Dreams ? Discover Some Amazing Talent
Reach thousands of actors, models, photographers, and other creatives by placing a free
casting call, or hand-pick from our Talent Directory
I had a great experience working with the Mumbai Dreams team. They were all very professional, courteous and helpful throughout the day of my shoot. Definitely select the right agency to do my portfolio.
Great place for kids photo shoot. Awesome team. Highly recommended. Best in class. Pramod and team is highly professional and very supportive. Zafar is a true asset to that place. Very creative team overall.
Had a great experience with the 'Mumbai Dreams' team. It was fun shooting, they were very professional and made things comfortable and guided me pretty well throughout the shoot. Thanks again!!
I don't want to write too much words. I just wanted to send a endless greetings to Mumbai Dreams and say as many thanks as we can cause it was really the best experience and the best photo session.
Very understanding and helpful people. Also enjoyed the shoot a lot. Special thanks to pramod sir, who made my first shoot so comfortable. Thank you Mumbaidreams team!
It was so great! It was my first shoot n I got the proper guidance from Pramod Sir who was there all the time to tell me how to pose n everything. Completely worth it!

I did a shoot of my two sons with them. Pramod and his team were extremely professional and friendly. They had a special way of dealing with the kids. Both boys 9 and 5 year old were comfortable.
Mr.Pramod is a very helpful guy.We did our childs photoshoot at Mumbai Dreams last month.In one month, my 5yr child Kyra got an offer for garment photoshoot for a leading fashion mall at Mumbai(Juhu).
It was a great experience with
[email protected]
. They are very co-operative and we did my 5 yr old daughter Kyra Thakar's photoshoot with extreme ease. Thank you Mumbaidreams
Pramod
Casting & Managing Director
Ashish
HR & Office Manager
Deepak
Digital Marketing Executive
The Number One priority is our Customer service. if you have any
Question or queries. We are here to help you